Die japanische Roboter-Firma Kokoro hat eine Robotkrankenschwester entwickelt, die mit einer guten Maske und ausgefeilter Mimik verblüffend (erschreckend?) menschlich wirkt. Es scheint, als bauten wir menschliche Roboter, weil wir menschliche Roboter wollen, nicht unbedingt, weil wir sie brauchen.
Noch ist dieser Android telemetrisch ferngesteuert, aber falls die Singularitätsjünger des Propheten Kurzweil Recht behalten (was ich persönlich allerdings bezweifle), dann könnte so etwas eine zukünftige Hülle agierender AIs sein.
Ich finde es faszinierend, mit welchem Eifer wir an der Erfüllung unserer technologisch-phantastischen Ikonografien arbeiten. Der britische Autor Brian Aldiss nennt die Geschichte um Frankenstein und sein Geschöpf als Geburtsstunde der Science Fiction.
Immer mehr werden nun die Archetypen der Science Fiction zu Blaupausen unseres Fortschritts. In diesem Fall im Gewand des künstlichen Menschen.
Mir scheint das weniger eine technologische als eine kulturelle Entwicklung zu sein. Wir wollen einfach, dass es solche Wesen gibt. Und sei es nur, um uns hinterher vor ihnen zu gruseln.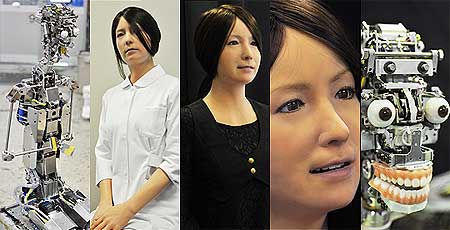 Das Unternehmen Kokoro kommt übrigens aus der Unterhaltungsbranche. Sie machen auch Robotersaurier, Tiere und Spielzeugroboter. Die eigenen Marketing-Worte der Firma könnten aus einem SF-Film der 80er Jahre stammen:
Since it was established in 1984, Kokoro has developed a wide variety of robots including dinosaurs, animals and humanoids based on the main theme "touch the hearts of the people".

Kokoro's "Mechatro-Art" techniques are created by our delicate blend of sophisticated art techniques and life-like movements. This unique perspective has made the name of Kokoro and our trademark "Doukoku – moving sculpture" known in the entertainment industries around the world.
Das erinnert mich an eine andere Firma,
mit einem anderen Motto: