Was viele Musik (und SF-)Fans nicht wissen: Jimi Hendrix war ein großer Verehrer der Science Fiction Literatur. In seiner Zeit in England hatte er einen Koffer voller Bücher bei sich, ausschließlich Science Fiction Romane. Dies ist nun nachzulesen in der neuen Biografie Becoming Jimi Hendrix, die gerade erschienen ist.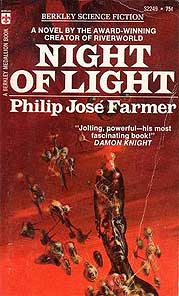 SF war für Hendrix eine wichtige Inspirationsquelle, Science Fiction Themen und Versatzstücke tauchen immer wieder in seinen Songs auf. So schreiben die Autoren der Biografie, dass der Roman Night Of Light von Philip José Farmer einen besonders großen Einfluss auf Hendrix ausübte. Das Buch inspirierte ihn zu einem seiner berühmtesten Stücke: Purple Haze.
Ursprünglich hatte Jimi Hendrix zu diesem Stück einen Songtext von mehreren Seiten verfasst. Eine Erzählung epischer Breite über den Krieg um den Planeten Neptun. Ich weiß ja nicht, ob man diesen Text heute irgendwo lesen kann, aber ich wäre sehr gespannt auf diese Lektüre. Im heute bekannten Songtext jedenfalls ist nicht mehr viel geblieben vom Sternenkampf.
Purple haze all in my brain
Lately things just don't seem the same
Actin' funny, but I don't know why
'Scuse me while I kiss the sky
Es gibt auch umgekehrt Beziehungen von der SF zu Jimi Hendrix. So setzte der amerikanische Science Fiction Autor Lewis Shiner dem grandiosen Musiker Hendrix in dem Roman Schattenklänge eine kleines aber feines Denkmal. Nachzuhören im Schriftsonar Podcast #37.
( Quelle via: Galleycat )