Wer sich für Science Fiction interessiert, der denkt über die Zukunft nach. Dieser Satz ist nicht falsch, aber ist er ganz richtig? Was meinen wir, wenn wir Zukunft denken und welche Art von Zukunft beschreiben Vorhersagen?
Fernöstliche Meditationslehre sagt, dass Zukunft und Vergangenheit nicht existieren, dass sie Illusionen des Geistes sind. Das Morgen gibt es nicht. In unserer modernen Welt beschreiben wir die Zukunft wie einen Katalog von Möglichkeiten und Entwicklungen. Doch wenn wir in dieser Weise über die Zukunft sprechen, reden wir dann wirklich über sie, oder nur über eine Konstruktion der Gegenwart?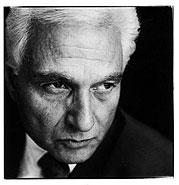 Der französische Philosoph Jacques Derrida umschreibt eine Zweigestaltigkeit der Zukunft. Die eine, über die wir reden, die wir vorplanen und mit unseren Erwartungen füllen, und jene, die wirklich die Zukunft ist, das kommende (l'avenir), das per Definition unvorhersehbar ist.
In general, I try to distinguish between what one calls the future and "l'avenir." The future is that which – tomorrow, later, next century – will be. There's a future which is predictable, programmed, scheduled, foreseeable.
But there is a future, l'avenir (to come) which refers to someone who comes whose arrival is totally unexpected. For me, that is the real future. That which is totally unpredictable. The Other who comes without my being able to anticipate their arrival.
So if there is a real future beyond this other known future, it's l'avenir in that it's the coming of the Other when I am completely unable to foresee their arrival.
Es sind nicht die "Wild Cards" über die Derrida spricht, nicht das Unvorhergesehene. Die wirkliche Zukunft ist für ihn das Unvorhersehbare, das erst sichtbar wird, wenn es geschieht.
Link: Jacques Derrida And 'l'avenir' – The 'Unpredictable Future'