eBooks haben nur geringe Chancen, lange Romane sind die Lyrik von Morgen und Künstler werden es wieder richtig schwer haben – Cory Doctorow denkt nach über die Media-Morphosis von Zeitungen, Big Budget Filmen, Musik und Büchern.
Media-Morphosis: How the Internet Will Devour, Transform, or Destroy Your Favorite Medium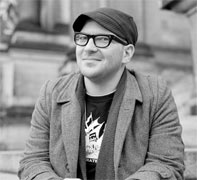 Kein neues Thema, gewiss. Aber Doctorow bringt die Dinge schön auf den Punkt und fügt interessante Gedanken hinzu. Durch das Internet, so schreibt er, werden alle bisherige Medien, die im wesentlichen kommerziellen Gesetzen zu gehorchen haben, grundlegend verändert und zum Teil aufgelöst. Die Gegenargumente dieser Entwicklung sind zwar leidenschaftlich, werden aber nicht nüchtern geführt:
the rhetoric is mostly of the nonproductive "But I like it!" and "It's good for society!" variety, with not enough thought given to whether these media are commercially viable in the Internet age.
Besonders schwarz sieht Doctorow für teure Leinwand-Epen, sogenannte BBMs (Big Budget Movies). Die immer größer werdende Lücke zwischen Produktionskosten und Gewinnen lässt sich nur noch mit enormen Anstrengungen (und einer Menge "Happy Meals Figuren") überbrücken. Irgendwann wird sich diese Lücke nicht mehr schließen lassen. Die meisten Menschen werden Filme in Zukunft sehen wann, wo und zu welchem Preis sie wollen (einschließlich "umsonst"). Wenn die Filmindustrie sich hierauf nicht einstellt, wird es eng.
But if it's not enough, commercially motivated BBMs might simply die.
Es wird, so Doctorow, sicher auch in Zukunft große, teure Filme geben, aber sie werden ein Randphänomen für wenige, wie z.B. die heutigen pompösen Bayreuther Wagner-Aufführungen.
Was Doctorow über den Musikmarkt schreibt, ist bereits sichtbar. Das bisherige Vertriebssystem ist am Ende. Das hat Vorteile – so wird der Liveact wieder zum eigentlich Kern des Musikerlebnisses und des Musikerlebens – und Nachteile:
There are artists who can't perform for beans. Those artists' futures are in trouble.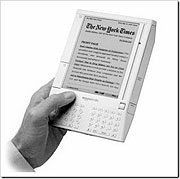 Besonders interessant ist aus meiner Sicht natürlich seine Einschätzung zum Buch in der Internet-Zukunft. Dem eBook gibt er keine keine große Chancen. Seine Argumentation verläuft etwa so: eBooks sind zu teuer für einen Massenmarkt. Um ein Massenpublikum zu finden, müssen sie zusätzliche Gimmicks an Bord haben, womit sie so ablenkend werden wie ein Computer, womit sie als Leseplattform ausfallen.
And don't talk to me about ebook readers: Single-purpose devices that cost $400 a pop aren't going to be choice items for people who resent spending money on books. And they're not going to drop to $40 unless they sell in quantity, and that means adding more features to catch a bigger audience — at which point your ebook reader is as distracting as a PC.
Die Argumentation ist sicher angreifbar, beruht sie doch im Wesentlichen auf der Frage, wie leicht wir uns von der Konzentrationsaufgabe Lesen ablenken lassen, doch sie hat auch einiges für sich. Auf Leute wie mich trifft sie sicher zu. Fragt sich aber, ob dies auch für den Leser der Zukunft gilt.
Das Massenpublikum der Zukunft, so Doctorow, wird durch die Gewöhnung ans Internetlesen (schnell viele kurze Texte) vielleicht sowieso von den langen epischen Romanen abkommen, ähnlich wie von langen Filmen.
If big-budget movies might turn into opera, then long-form narrative books might turn into poetry.
Den sehr lesenswerten Artikel, mit einer Menge mehr Überlegungen und Argumenten gibt es bei internet evolution:
Link: Media-Morphosis: How the Internet Will Devour, Transform, or Destroy Your Favorite Medium